(English) Let's save these tips with ASAHI furniture, you will be able to distinguish between real and fake cow skins almost as an expert.
Let's save these tips with ASAHI furniture, you will be able to distinguish between real and fake cow skins almost as an expert.
For thousands of years, animal skins have been applied a lot in human life, two main fields are fashion and furniture. In which cow skin is preferred over other skin types because of its popularity, softness, elegance and elegance. Real cow skin is a term for the type of skin that has undergone a high-quality tanning process, derived from cow skin. Currently on the market is selling a lot of "cow skin" but not true, so how to distinguish real cow skin from hundreds of other mixed products? ASAHI Furniture will give you the most in-depth information to distinguish real cow skins, let's find out to the end.
1. Use 3 senses.
That's right. You can completely apply the 3 senses of the body: touch, smell and sight to distinguish real cow skin.
Option 1: Use touch. First of all, you touch the surface of the skin with your fingertips. There will be two situations at this time: You feel warm even when it is cold, the surface of the skin is naturally smooth and soft, it is real skin. If you come into contact with the surface of the skin that you find your hands cold, slippery does not feel like touching a human hand, it is fake skin.
Option 2: Use your sense of smell. Cow skin lines belonging to herbs or tanning skins from Italy have a slight aroma of the bark, the roots of the plant are very characteristic and pleasant. You'll find a few suggestions about burning fire with fire and smelling like real beef skin, smelling like burning plastic is fake. However, this method is no longer suitable for the leather goods industry today. You should combine the use of the sense of smell along with many other ways before drawing conclusions.
Option 3: Use vision. This can be said to be the most difficult method of differentiation in all three ways because it requires high visibility, meticulousness and a bit of available experience. The surface of the fake skin is usually smooth, flat or very tight, without elasticity. When you look closely on the surface of the real skin there will be small pores, people often use magnifying glass to observe this detail more clearly. The surface of cow skin is quite rough, the ridges of the skin sometimes have scars, scratches. In some places they will apply tanning techniques to minimize the flatness of the surface, but still have the coarseness of natural skin.
2. Cow skins are water-soaked.
You can try using a glass of cold water to distinguish real and fake skin by the following way: Slowly pour the water in the cup onto the surface of the product or skin. If the cow skin is real, it will soak up some of the water and the fake skin will flow away. The peculiarity of real cow skin is that there are pores on the surface and the ability to absorb water so it is susceptible to moisture contamination. So today manufacturers have covered the surface with a protective wax layer to better preserve the skin, increasing the life of the product.
3. Try elasticity.
One of the advantages that makes cow skins loved is because of its good elasticity. When pressing hard with your hands on a point on the surface, the product will immediately appear dented and quickly return to its original shape. Fake leather cannot acquire this property due to the broken plastic particle structure, the inability to restore the original state. If stored and cared for under normal conditions, real cow skin will be very difficult to crack or texture.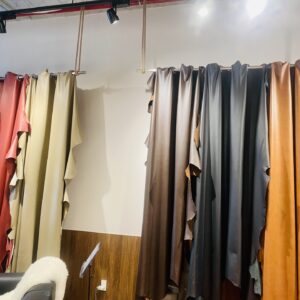 Full-length cowhide is displayed at ASAHI Furniture Showroom at C space
Outstanding advantages of Genuine Cowhide of ASAHI furniture Sofa products:
Genuine Leather of ASAHI Furniture is supplied from JBS group*. We have been cooperating with JBS when the A&M Vietnam factory was starting operation and it has been over 15 years up to now.
Quality and origin of Leather: Sofa ASAHI furniture is used 100% genuine cowhide, made in Brazil, manufactured and exported to ISO global quality standards.
(*JBS is largest integrated livestock producer over the would with headquarters in Brazil and the largest number of dairy and beef cattle in the world. After JBS raw hides from around the world focus on South America, It will be tanned in Brazil,  then exported to Vietnam to processed and finished at JBS factory in Dong Nai province. Most of the technology and processing equipment of JBS Vietnam factory is exportted from Italy.)
At ASAHI furniture, there are 2 main types of leather with many different skin colors that customers can choose such as:
Semi aniline leather – SA (Standard leather): Semi-aniline finish. Thickness: 1.0-1.2 mm with 5 different skin colors.
Patrol Leather – PA (Thick Leather): Semi-aniline finish. Thickness: 1.6-1.8 mm with 6 skin colors. Usually used for higher end products. Outstanding features of Genuine Cowhide at ASAHI funiture:
High-quality full-grain leather was selected carefully which would be durability for decades if you use and take care it well
The semi-aniline finish (thinly coated with pigments) preserves the natural wrinkles of the leather and is especially safe for the user.
Soft leather combined with high-quality sofa surface feathers and urethane creates a smooth and relaxing feeling when sitting.
The leather will become very cool in the hot weather. And it will be warm up in the cold season.
The leather has high elasticity and the ability to stretch pores, so it can absorb sweat well.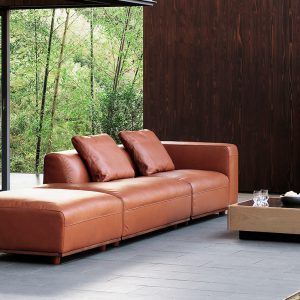 Sofas of  brand ASAHI furniture is made from 100% cowhide which will be bringing a soft feeling & hugging the body when sitting by the elasticity of real leather.
Understanding the characteristics and distinguishing genuine cowhide from artificial leather will help you become a wise and discerning consumer, staying away from poor-quality stores. ASAHI Furniture – Japanese Tailored Leather Sofa brand is always proud to be the manufacturer and supplier of 100% real cowhide sofa. With Japanese quality standards, our sofa products are subjected to the most meticulous and rigorous processing. Exquisite stitching, soft, durable and long-lasting leather with a commitment to bringing customers the absolute satisfaction.