BRIDGE COLECTION DISPLAYED AT SHOWROOM NHA XINH NAM TU LIEM BRANCH-HA NOI
Congratulations to the long-time partner of the brand ASAHI furniture, Nha Xinh has opened the 10th Showroom branch in Nam Tu Lien – Hanoi on April 28, 2022.
Currently, in addition to the Showroom branches of Nha Xinh Yen Hoa, Nha Xinh Thuy Khe, Nha Xinh Nguyen Chi Thanh, you could come to visit and experience ASAHI furniture 's Bridge series product line at:  Showroom Nha Xinh, 2nd floor, Vincom Mega Mall, Vinhomes Smart City, Tay Mo Ward, Nam Tu Liem District, Hanoi.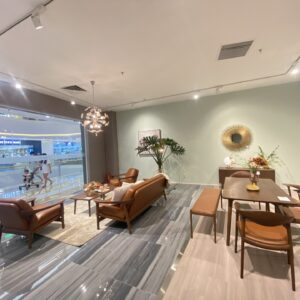 The Bridge collection is displayed at the front of Nha Xinh showroom on the 2nd floor, Vincom Mega Mall building that the Customers can easily see.